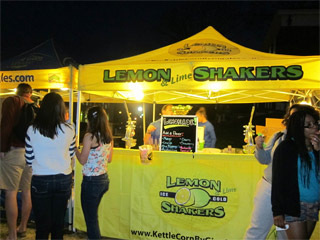 Giggles is a mobile food vendor, popping old fashion New England Style kettle corn, old fashion fresh squeezed lemonade, old fashion soda, festival style cotton candy, caramel apples, old fashion candies and confections, fresh brewed coffee in the New England areas, we also cover nearby areas in CT, NY, MA, and RI. If you cannot make it to a fair or festival we will pop a speciality tin of kettle corn and ship it to you.
Kettle Corn by Giggles is a family owned business starting with our belief in making everyday a POPPING day!
Our recipe is built on the foundation of only using the finest ingredients to produce the very best kettle corn! We don't skimp on anything. We use gourmet corn and corn oil. Believe me, we've popped many kettles working on getting just the right blend of sweet and salty at the same time.
We only use real Corn Oil in our traditional Old Fashion Kettle when the temperature is just right we add our popping corn. We use only natural ingredients, nothing artificial no preservatives and NO peanut products .. and NO dairy!
We believe that to have the real experience you need to experience Giggle Kettle Corn, where we hand pop it, stirring it until it pops, and then we sift out all the old maids (the unpopped popcorn kernels).
Nothing beats the smell of fresh hot ketle corn popping on a crisp New England evening. The smell of popping corn adds to fun of any festival, event, craft fair or sporting event – it's like the entertainment you can eat.
Our goals is to provide you with the best hand popped New England Style Kettle Korn and make your day a POPPING day!